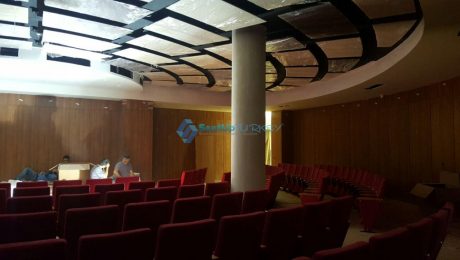 The V seat model is the most multifunctional conference seat model and most affordable seat!
Our V seat model it is a series of 5 main models which can apply with many kind of version as well.
The main seats in this series are: BS V-1 , BS V-2, BS V-3, BS V-4, BS V-5 
What make these seat models to be so successful? Because it is a very strong seat with a warranty up to 10 years at a very, very affordable price.
Another main reason for these seat models success is the fact that they are very multifunctional! you can offer them for conference hall
But at the same time to Cinema as well, yet there also so popular as VIP seats in Stadiums!
The seat has leg made of metal profile in "V" shape, the sides of the seat can be open or close according to the customer's wishes.
in generel we produce these seat models as shared armrest and the middle seat has open side and at the end and the beginning of each
row the side of the seat is closed in order to achieve aesthetic performance.
For the shape of the backrest we have more 6 or 7 options as you can review from the link: The basic series.
It is it is possible to have the back of the backrest with plastic shield or as upholstered. same for the chair seat it can apply with plastic
shield or as upholstered. Armrest can apply made of hard plastic and straight or with cup holders, as well wooden armrest is available.
Another prominent advantage of these model seats is that they can be produced with a very short time, for example the BS V1 model can
be produced as 1000 seat per week.
So when you have a project that requires a reasonable price and a very short supply time along with a long term warranty requirement and
massive strength then it is clear that your choice will be one of our V series. So check out this series and you can count on it.
SeatUp Turkey®  +902249996707   +905427196712
www.seatupturkey.com.tr / www.seatupturkey.net
Published in

Aiming to achieve the right factory for Auditorium seating, Auditorium project, Auditorium seating manufacturer, Auditorium seating manufacturer in Turkey, Auditorium seats, Cinema chair manufacturer, cinema seating, collection 2018 of Auditorium seats, colleges furniture, conference seats, conference seats manufacturer, economical solutions for building stadiums in low cost, factory for Auditorium seating, Fixed Seating from Turkey in affordable price, Fixed Seating in affordable price, fixed seating in lecture hall, get a quote for Auditorium seats and Stadium chairs, movie seats, movie theaters, multifunctional Conference seat model, professional seating manufacturer, professional seating solution, seating for Synagogues, seating-manufacturer, seats production, sport courts, stadium chairs, stadium seats manufacturer, successful auditorium seat, Turkish Exporter, Turkish manufacturer, universities furniture, VIP seat, wooden Auditorium, worship seating
Church seating and worship seating for Synagogues
The Seats in buildings of churches and synagogues are mostly made of solid wood but very important in them is the choice of the
upholstering fabric and the foam of the backrest and the seat.
And this is our work. Throughout the year we produce thousands of seats for public prayer buildings such as seating for churches and
synagogues. Of course, this is mainly about churches and synagogues.
We build wooden models according to costumer request and then manufacture the seat upholstery in our mold technique.
This is the most advanced technique for producing seats in order to achieve maximum accuracy and quality sponge that maintains its
shape over many decades without fear of product degradation.
As you know there are many manufacturers in the market who work with ready made sponge instead of moulding foam as we produce,
but that ready made sponge cannot fully be control in the term of shape and quality.
We would be very pleased to be your manufacturer in your next project of synagogue or church.
It is important to remember that in the seats of synagogues and church , as important as the quality of the wood and its finish,
so is the importance of the cushioning material of the seat. Since the seat is designed for comfortable seating over many hours,
and it can not be inconvenient for the worshipers.
Therefore when it comes to the subject of Church seating and worship seating for Synagogues we are the right address.
Contact us for Church seating and worship seating for Synagogues, get a quote today.
Published in

Acoustic panel manufacturer, Acoustic wooden panel, Aiming to achieve the right factory for Auditorium seating, Auditorium seating, Auditorium seating manufacturer in Turkey, Church seating, Church seating and worship seating for Synagogues, conference seats manufacturer, manufacturer for worship seating, seating for Synagogues, wooden Auditorium, worship seating