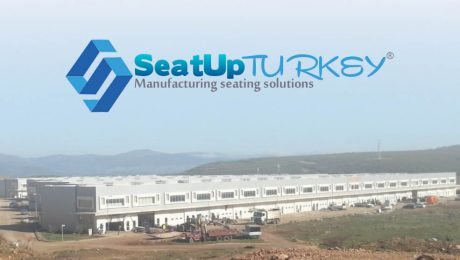 Seating Manufacturer 
For us in SeatUp Turkey®  company making seats is not simple and easy.
Each model of a seat requires attention and meticulous attention to detail.
The special thing about our factory is that we manufacture all alone when all the raw materials of the seats are processed in our factory.
The plastic parts we use are also manufactured by us thanks to our Polyurethane plastic injection machine.
The only thing that actually comes to us as raw material prepared from the outside is the fabric which we of course do not manufacture on
our own but we have local fabric manufacturers here in Turkey in Bursa city which is known as one of the most successful cities in the
world in the field of textiles and upholstery fabrics. Those who know about the stock market are manufactured high quality upholstery
fabrics for car seats and also furniture and sofas and fabrics which are exported from here to the United States and Canada and European
Union countries such as Germany Italy Spain France alongside countries such as England and Australia.
Countries such as China and India also order huge amounts of fabric from Bursa.
That's why we have access to very high quality upholstery. Including a fine leather look.
Back to production As we said, we are a leading Turkish manufacturer in the auditorium and ectedinium seating areas as well as in the
What makes us unique is that all the parts of the moshav are manufactured in our factory, including the plastic parts and the like.
Actually we have 8 main departments in the factory and you are also welcome to visit our factory by yourself.
These are the 8 main departments in our factory:
1. Research & Development
The Research and Development what so called R&D's is an important role in our company and this is what makes us able to be a leading company for Auditorium and Stadium chairs and furniture for public buildings.
2. Design & Project
Our Design and Project department open for your new ideas and offers and can support your project from a dream to a final realty. they will help you to convert raw materials into living products and to translate simple products into living Auditorium environments. The outcome is always a harmony of great qualities of raw materials with our professional design which based on our 20 years of knowledge and experience.
3. Metal Section
In this department we take care to weld and manufacture the metal parts of the seat this is where Hot dip galvanized metal has been made
into leg, foot and the back structure of the seat. high quality electrostatic paint is being apply.
4. Wood Section
In this the department where we process various types of wood into sections such as writing surfaces for auditorium chairs, as well as
wood back shield for various seats and of course wooden armrests. Color resistant in 4 layers applied.
5. Plastic Injection
Here we produce essential Anti  flame Polypropylene parts for our seats such as armrests, plastic plugs, backseat covers , and of course
here we produce our plastic seats  for stadiums in commercial capes.
6. Foam Injection
This is the place where Anti  flame polyurethane is injected into metal molds and so here we produce hundreds of types of foam shapes for
back seats and  seats for all the models which we produce.
7. Sewing and upholstery
Here thousands of  Meters of fabric and artificial leather arrive and they are cut by cutting a laser machine and then they are sewn in our
sewing workshop for the back seats and seats, then later the They will then wear the back of the seat and the seat in the garment sewn for
them.
8. Packaging and assembly
After the production has been completed and before loading the container or truck to bring the goods to the customer we must pack
carefully the seats. Most of the time we send the seats  as for self assembly and then costumer  installs himself or we are required to send
our team to help with the installation.
In any case, all the parts are packed carefully and in a proper packaging, which keeps the product from injuries and blows that the product
may absorb on the way.
We hope to continue to be one of the best Seating Manufacturer in the world!
Published in

Acoustic panel made in turkey, Acoustic panel manufacturer, Auditorium project, Auditorium seating, Auditorium seating manufacturer in Turkey, Auditorium seats, Cinema chair manufacturer, cinema seating, conference seats, conference seats manufacturer, Fixed Seating from Turkey in affordable price, Fixed Seating in affordable price, movie theaters, professional seating manufacturer, professional seating solution, seating-manufacturer, stadium chair, stadium seats manufacturer